Parking lots require sufficient lighting for the safety of employees and customers. As a business owner, you want to find ways to cut back on costs and increase profitability. LEDs are an efficient way to light your lot. Orange Energizing Solutions (OES) provides top-quality LED lighting installation services.
Why Are LED Lights For Your Parking Lot?
There are several advantages to using LED lighting rather than traditional bulbs for your parking lot. Using LEDs means you and your customers can enjoy a well-lit parking lot while your business reduces energy and maintenance costs.
Parking lots need powerful lighting to provide sufficient light during hours when it's dark. Common wattages for LED parking lot lighting range from 40 watts to 600 watts. The same wattage for HID parking lot lights would be 400 to 1000 watts. By making the switch to the 1000 watt equivalent LED parking lot light, your facility could save up to $300 per fixture in electricity costs. For lots of all sizes, this can result in substantial cost savings.
Maintenance Cost Reduction
By making the switch to LEDs, you can also reduce maintenance costs. Because of the way that LEDs generate light, they progress through their functional life differently than traditional forms of lighting. Traditional lights no longer work once a fuel source is depleted, whereas LED generated light degrades slowly over time. LEDs have a much longer life than traditional fixtures. By reducing maintenance costs over a long period of time, your company can focus on business operations and reduce costs.
Reduce energy consumption by 40-60%.
Using LEDs as opposed to other traditional forms of lighting will result in substantial cost savings.
In addition to cutting costs, it's also critical that whatever lighting you choose provides visibility so that both employees and customers feel safe during dark hours. LEDs distribute their light via a multipoint design, so light is evenly distributed. Using LEDs, the light across a given surface will not vary as much as if you were to use traditional fixtures. HIDs, for example, produce a "bright spot" directly underneath the fixture with the intensity of the light decreasing drastically the farther away you get from the pole. LEDs, on the other hand, can provide adequate lighting covering a large space.
Providing Quality Installation For LED Parking Lot Lights
At Orange Energizing Solutions, we pride ourselves on providing cost-effective, energy saving solutions for your facility. We have completed numerous LED parking lot lighting projects to help businesses save money by significantly reducing their energy costs. When installing LED parking lot pole lighting, we either use shoebox or floodlights to adequately light the area.
Shoebox Lights: LED shoebox light fixtures effectively illuminate large areas with ease. The shape of the fixture, often square or rectangular, combined with the placement can lead to a broad scope of lighting that is powerful and effective.
Flood Lights: Ideal for all sorts of businesses that need to light a large area, commercial floodlights are designed to provide a high-intensity flooding illumination. They are typically broad-beamed fixtures that provide an even light spread across a large area and are usually directed via a projector.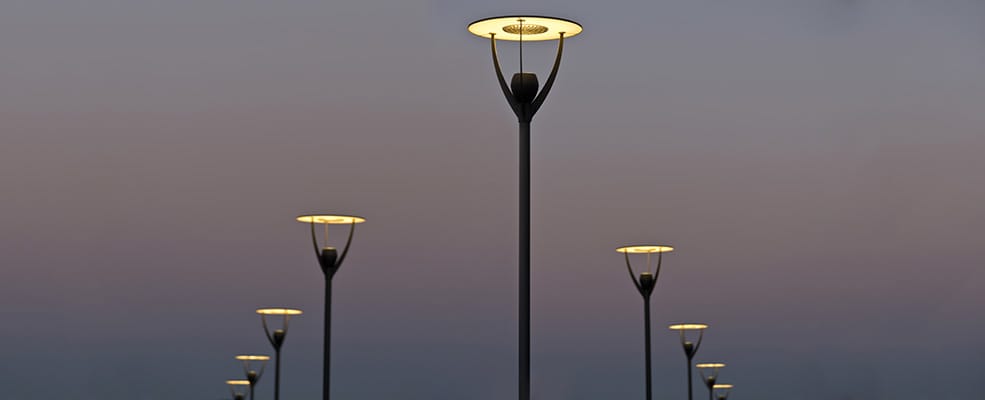 Light Your Parking Lot With The Help Of Professionals At OES
Commercial LED parking lot light fixtures from OES will keep patrons safe all while cutting your energy costs. We have successfully installed LED lighting fixtures for a wide variety of businesses, and we continually provide solutions to make facilities more energy efficient. To learn more about our LED parking lot lighting solutions or to schedule a service, contact OES today.
Request a free energy survey to see how Orange Energy Solutions can help save you money today.